---
---
Aqua Marina Hyper 3.81m SUP Touring Padding Board
Making new discoveries and experiencing adventures has never been more exciting with the Aqua Marina Hyper touring boards! The Aqua Marina Hyper SUP is the perfect cruiser with an exclusive Double Chamber Technology which provides extra safety and rigidity. With more paralleled rails and a broadened tail for the Hyper SUP is sturdy yet sporty, ensuring clean and straight tracking.
The Hyper SUP boards are fast, easy to paddle and retain your balance, even if you are a first-time SUPer. The 6-inch thickness gives incredible rigidity while extra volume keeps you and your luggage up and dry.
Unsurpassed stiffness and stability brought by the new double chamber construction makes the Aqua Marina Hyper ideal for carrying camping gear, whilst the streamlined outline makes it perfect for high-speed cruising enabling you to paddle further and longer.
The Aqua Marina Hyper inflatable touring board is going to be every explorers' favourite mode of transportation - Faster and more comfortable than ever.
The Aqua Marina Hyper 12' 6" SUP Board has a payload capacity of 150kg.
Hyper Key Features:
• Featuring double cargo net and adjustable bungee cord stopper, ideal for day trippers carrying all gear and supplies
• Non-print EVA footpad of diamond grooving crocodile skin, ensuring ultimate grip and comfort
• Solid neoprene carry handle specifically designed for a comfortable grasp
• Stainless steel bungee D-rings tactically located for optional seat connection
• Upgraded air valve rubber patch providing user-friendly instructions and better airtightness in harsh environments
• Newly-designed tail kick pad for critical bottom turns and cutbacks
• Welded Double Chamber Technology for extra rigidity and safety
• More paralleled rail to facilitate excellent straight tracking
• Molded hydrodynamic rail edge design creating clean water release and highly improved paddling efficiency
• Removable slide-in Racing Fin for good tracking ability
Hyper 12' 6" Specification:Model:
Aqua Marina Hyper 12' 6"
Board Size:
381 x 81 x 15 cm (12' 6" x 32" x 6")
Volume:
370 Litres
Net Weight:
26.5 lbs / 12 Kg
Max. Payload:
374 Lbs / 170 Kg
Max. Air Pressure:
15 PSI / 10 PSI Centre Chamber
Whats in the Aqua Marina Hyper 12' 6 box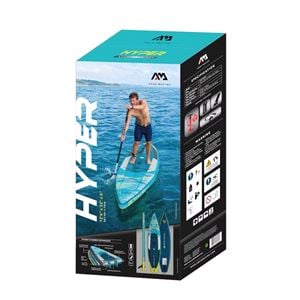 The Hyper Paddle Board kit comes with everything you next to get on the Water and store it away after.
The Kit contains:
* 1 x Zip Backpack to store the Paddle Board after use
* 1 x Double Action Pump Liquid AIR V2
* 1 x Racing Centre Fin
* 1 x Coil Leash


Hyper - Double Chamber Technology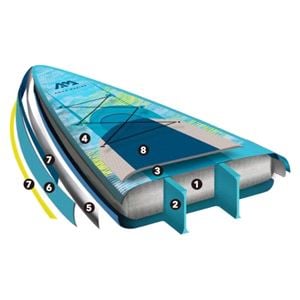 The added chamber offers up to 48 liters of safety floatation for inflatable board used in open water and long trip touring.

1. Double Wall Fabric drop stitch core
2. Light and printed tarpaulin layer
3. Double layered added chamber
4. Added chamber band reinforcement
5. First PVC rail layer
6. Second PVC rail layer
7. Extra rail-band reinforcement
8. EVA footpad


Aqua Marina Hyper Handling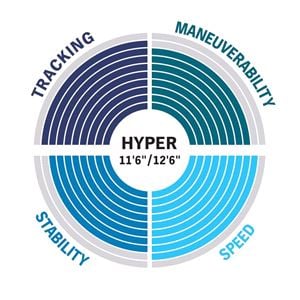 Aqua Marina is one of the most popular iSUP, Kayak and Speed Boat brands and over one million Aqua Marina boards are currently been enjoyed worldwide. Aqua Marina are proud to offer an affordable, high quality line of water sports products designed to meet the widest range of use in today's most popular water sport activities.
---